Bitcoin & Crypto
made simple.
Digital Surge is an incredibly user-friendly cryptocurrency exchange that provides Australians with an easy way to buy, sell and store over 300+ cryptocurrencies. Along with extremely low trading fees (0.5%), excellent customer support and a variety of other features, Digital Surge's platform is designed with simplicity in mind, making cryptocurrency enjoyable and easy-to-understand.  
Based in Brisbane, Australia, Digital Surge's platform and mobile app is well suited to both new and experienced investors and comes with a range of trading features including trigger orders (stop/loss & take/profit) and recurring buys (DCA). The platform has unbeatable customers support (7 days live chat), an immaculate security record and a wealth of educational content not provided by other exchanges.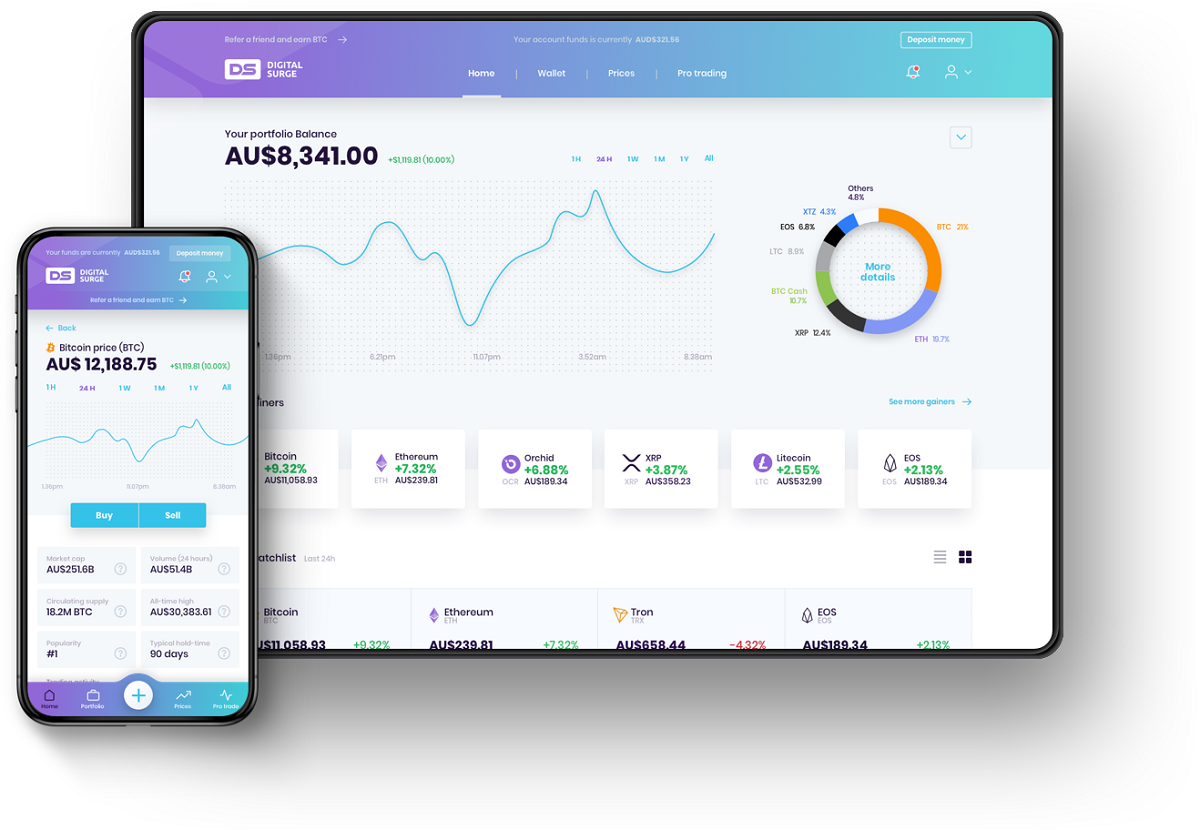 Who are Digital Surge?
From the outset, Digital Surge's founders, Dan & Josh, have been on a mission to simplify the world of cryptocurrency for everyday Australians. They believe that crypto should be accessible to all and are intimately involved in the local Aussie crypto community, running a number of grassroots events for anyone interested in digital currencies.  
Features at a glance
Along with being rated as the best value exchange on Marketplace Fairness and the no. 1 exchange to buy crypto with AUD on Finder, Digital Surge key offerings include:   
Australian operated with 100% Aussie-based customer support (7 days live chat)

 

An incredibly user-friendly trading experience

Low fees & consistently low spreads

Over 300+ coins available, giving us one of the widest selections in the country

Buy crypto direct with AUD (no conversion fees)

Premium educational resources

In-built tax tool partnership with Koinly and CryptoTax Calculator

The ability to pay Australian bills with Bitcoin

A free, highly secure personal wallet for all DS traders (Australia & NZ only)

 
 Trading Experience 
Digital Surge's user-interface and trading experience is undoubtedly one of their strong points. With a clean and easy-to-read dashboard and interface, they have done an excellent job at simplifying cryptocurrency for beginner users. That being said, advanced traders will be satisfied with the best-in-class Tradingview charting package provided, plus a number of trading features, such as:
Price alerts – The ability to set up easy price alerts on any cryptocurrency so you can be notified when a coin you are watching reaches a certain price 
Trigger orders – Trigger orders (aka stop loss & take profit orders) allow users to set the price they wish to buy or sell at and have the order automatically placed when the price is matched. Unlike most exchanges, Digital Surge don't lock your funds when you place a trigger order. This means you can create multiple trigger orders (ideal if you have a variety of trading strategies), and whichever one order hits first will be successful. 

Recurring buys – Digital Surge allows users to set up recurring buys aka dollar-cost-averaging, allowing users to automate their crypto purchases.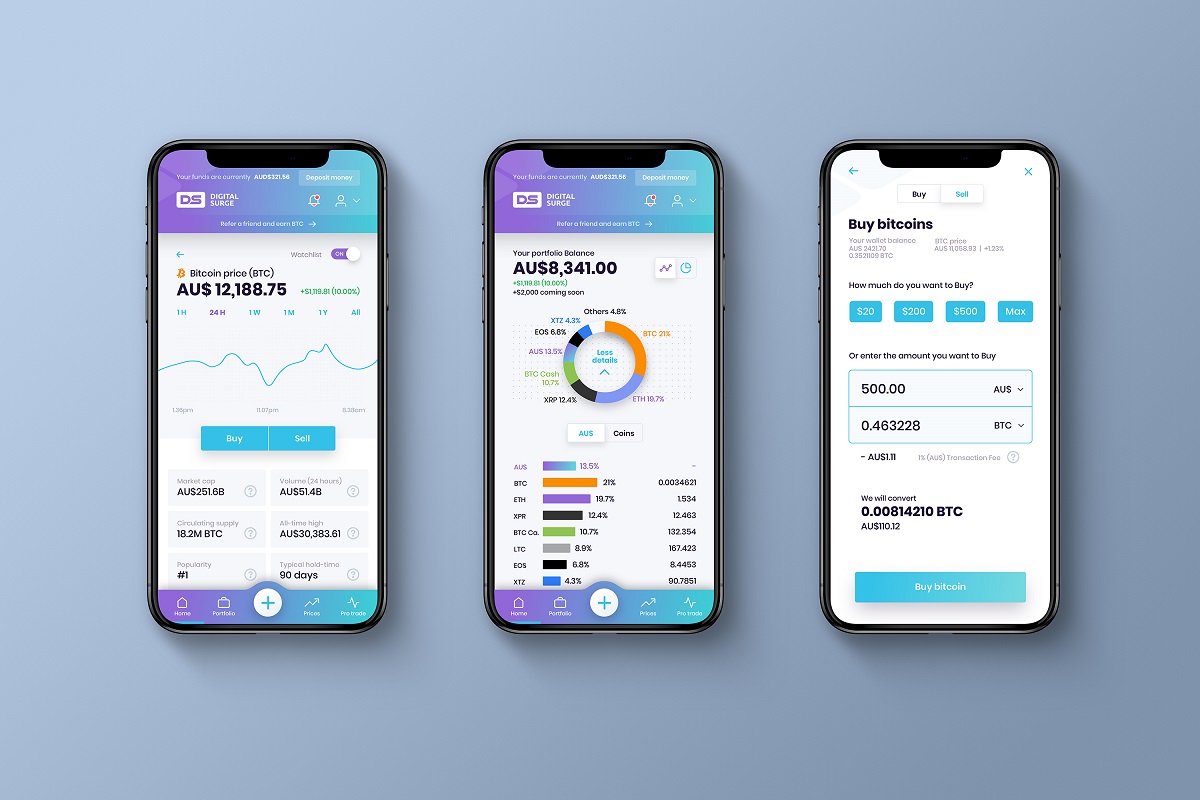 When it comes to finding a trading experience that's both convenient and highly functional, Digital Surge is hard to beat.   
Low fees & competitive spreads 
If ease-of-use and low trading fees are your priorities, then look no further. Digital Surge fees for instant buying and selling is a flat 0.5%, which is comparatively very reasonable compared to other exchanges in Australia. Users that trade high volumes on Digital Surge will be charged a different fee based on a rolling 30-day trade volume.  
This trading volume is calculated every 1 hour, and the trading fees can be reduced to 0.1% if the volume exceeds 1 Million AUD. Below are the trading fees with a fee comparison table showing various exchanges available to Australians.
Digital Surge's spreads are also very competitive and can be found here.  
Customer Support  
Digital Surge were the first platform in Australia to have a 7 days instant chat support, offering response times of less than 60 seconds. The customer support team at Digital Surge are highly rated and can be reached through the website/app's live chat app or via email instantly.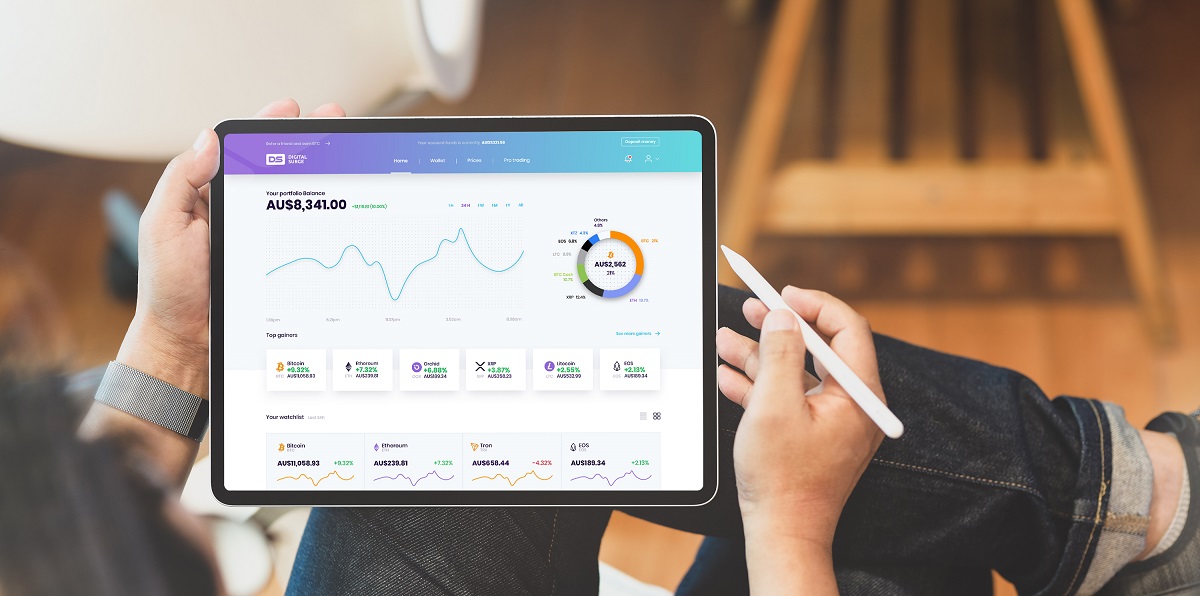 Pay bills with Bitcoin
Digital Surge makes paying your bills with Bitcoin fast, safe and easy. You can now pay any Australian bill or credit card that has a BPAY biller code with Bitcoin, the most popular cryptocurrency in the world. Click here for more information.  
Education Hub 
Digital Surge also stands out from the competition by offering a fully integrated education hub called Crypto Simple, perfect for anyone who wants to learn about cryptocurrency and investing in crypto.  
Digital Surge's Crypto Simple simplifies the world of crypto without getting bogged down in the unnecessary technical details. The education hub features a wide range of premium educational content that breaks the world of cryptocurrency investing down in a way that's simple and easy-to-digest for anyone new to the space.  
Security
Digital Surge's platform also provides top-of-the-line security measures including 2-FA, cold offline storage and regularly updated, multi-layered security. Since Digital Surge was established, there have been no reported hacks of theft of funds on Digital Surge. You can learn more about Digital Surge's security practices here.  
Australia's favorite exchange
If you're looking for overall value and the easiest way to trade over 300+ cryptocurrencies in Australia, Digital Surge is a top choice. With extremely low fees, unbeatable customer support & a uniquely user-friendly trading experience, Digital Surge is in a league of its own.