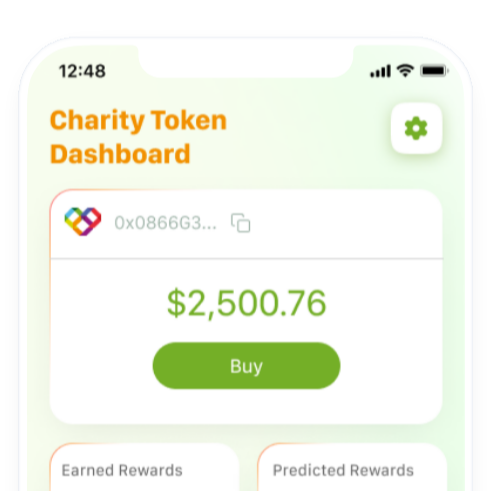 Charity Token, a more inclusive way to fundraise
Charity Token, a revolutionary charitable fundraising platform, is looking forward to changing how charitable organisations approach the public for funding to become more interactive and inclusive.
Gone are the days when a non-profit can host the annual bake sale and place the bucket out front for success. Global economic conditions have started to eat away at personal budgets, with subscription services and charitable giving chart lines falling off the cliff, all while non-profits have never been needed more.
Studies in consumer spending show us that the average U.S. household wastes over $18,000 per year on items they do not need, this equates to over two trillion dollars. To put this into perspective, the total donation volume to the Charity sector is only $500 billion annually. The realisation is that money is not the problem, participation is, and so Charity Token was formed.
Charity Token is many things but can best be described as "PayPal, for the Charity Sector." A unique, simple to use mobile phone application capable of delivering donations "cross border" in seconds direct to the hands of the micro-charities around the World.
The registered and regulation compliant company issues verified small charities with a digital wallet, including a profile for which to take donations from around the world. Charity Token only facilitates the payments, the wallets are strictly peer to peer to ensure encrypted safety from start to finish.
Because the network uses a cryptocurrency token to move the value, it means money can move like data, making the transfer and distribution autonomous and efficient. Fiat currencies are converted into tokens to transact on the app, and from tokens back to the native currency at the destination.
Fees are taken automatically by the smart contract each time a person transacts. These fees are instantly distributed to those participating within the ecosystem such as token holders and charities. Charities receive a large share of these fees providing a "passive income." This income will come from those using the services on the platform.
The mobile app is just the foundation, with the near future release of Charity NFT Marketplace which will allow artists, celebrities, companies, and individuals to collaborate with charities listed in Charity Token's library.
NFTs provide an incredibly unique opportunity to the charity sector, they allow the sale of illiquid intellectual property, which charities have vast amounts of. The marketplace will allow individuals to fundraise directly for the non-profits. The inclusivity that blockchain presents is unparalleled in comparison to other technologies and Charity Token see a big opportunity to increase trust, participation, and impact by allowing money to move through Charity like any other business model.
Charity Token is a privately owned Australian company and their app launches July 1st, 2022.